The 2023 Rugby World Cup kicks off on Friday, 8th September, and we have created a free wall chart for you to download now. Read more about this year's tournament hosted in France, and download your free chart now. We've also asked Chat GPT who will win the tournament – do you agree with the AI software's prediction?
Download your free 2023 Rugby World Cup wall chart now
Please click on the button below to download your free 2023 Rugby World Cup Wall Chart. Three options are available: image files (JPG and PNG) and a PDF. A wall chart is the perfect way to keep track of every game in the tournament and allows you to enter each team as they progress through to the final.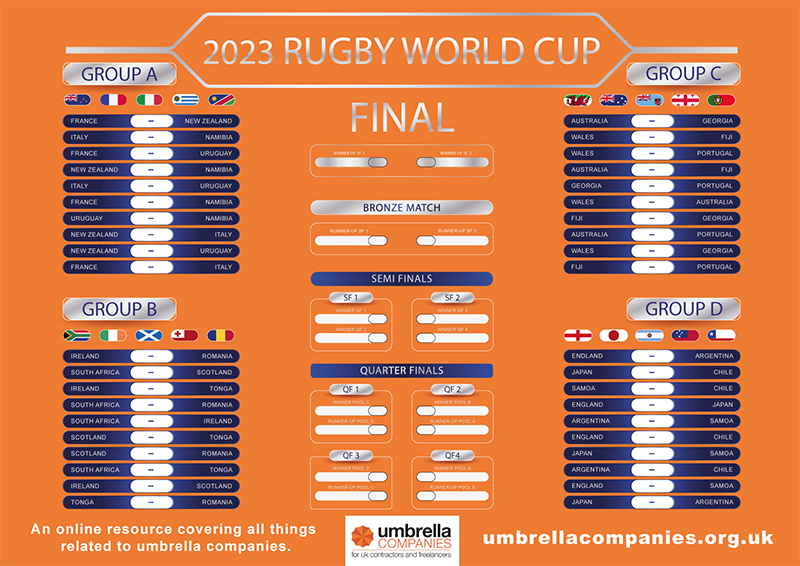 Click on the options above to download your free 2023 Rugby World Cup Wall Chart.
A background to the 2023 Rugby World Cup
Four years ago, you may remember the disappointing final between South African and England, where the Springboks beat England 32-12 in Japan. With England lacking pre-tournament form, can they go one better this time round and recreate the joy of lifting the trophy like they famously did back in 2003?
This year, there are 20 teams competing in the greatest rugby tournament on the planet:
Argentina
Australia
Chile
England
Fiji
France
Georgia
Ireland
Italy
Japan
Namibia
New Zealand
Portugal
Romania
Samoa
Scotland
South Africa
Tonga
Uruguay
Wales
Who do the bookmakers back to win the 2023 Rugby World Cup?
We had a look to see which nations have the greatest chance of winning the 2023 Rugby World Cup. The odds below have been taken from Sky Bet and are accurate at the time of posting.
New Zealand – 5/2
France – 10/3
South Africa – 10/3
Ireland – 9/2
Australia – 11/1
England – 14/1
Who does Chat GPT think will win the Rugby World Cup?
Sadly, Chat GPT was unable to answer! We asked the AI software "Who do you think will win the 2023 Rugby World Cup, and why?" and here is the response:
"I don't have access to real-time information or the ability to predict future events, including the outcome of the 2023 Rugby World Cup. The winner of such a tournament depends on many factors, including the performance of the teams, strategies employed by the coaches, and various unpredictable elements that can influence the outcome of each match.
To find out which team is favored to win the 2023 Rugby World Cup, I recommend checking the latest news, sports analysts' predictions, and the tournament's official website for updates on team performances and rankings."
What are the experts predicting?
Chat GPT, on this occasion, wasn't very helpful. Therefore, we had a look at what the experts were saying. Here are some predictions from high-profile legends of the game.
RugbyPass' Creative Directors and former Scotland international, Jim Hamilton predicts that France will emerge victorious, beating New Zealand in the final on the 28th October.
In an interview on Radio Times, legends Jonny Wilkinson, Sir Clive Woodward and Lawrence Dallaglio share their opinions on who will win the tournament.
Jonny Wilkinson said: "New Zealand looked like they weren't on major form but recently have put themselves right back into the favourites category."
Sir Clive Woodward said: "If I was France coach Fabien Galthié, I'd be building this up to my players as the chance of a lifetime. But you can't ignore the Southern Hemisphere teams, especially New Zealand, who are becoming quite special again."
Lawrence Dallaglio said: "New Zealand are always dangerous and are coming good at the right time. But the game is about big men, and those teams are France and South Africa."
Top 10 Umbrella Companies
If you are interested in using an umbrella company for your payroll, we have the perfect resource for you. We have collated a list of our top 10 umbrella companies, and they're all accredited by the Freelancer and Contractor Services Association (FCSA) or Professional Passport. Some of our top 10 have special offers at the moment – so check them out now!